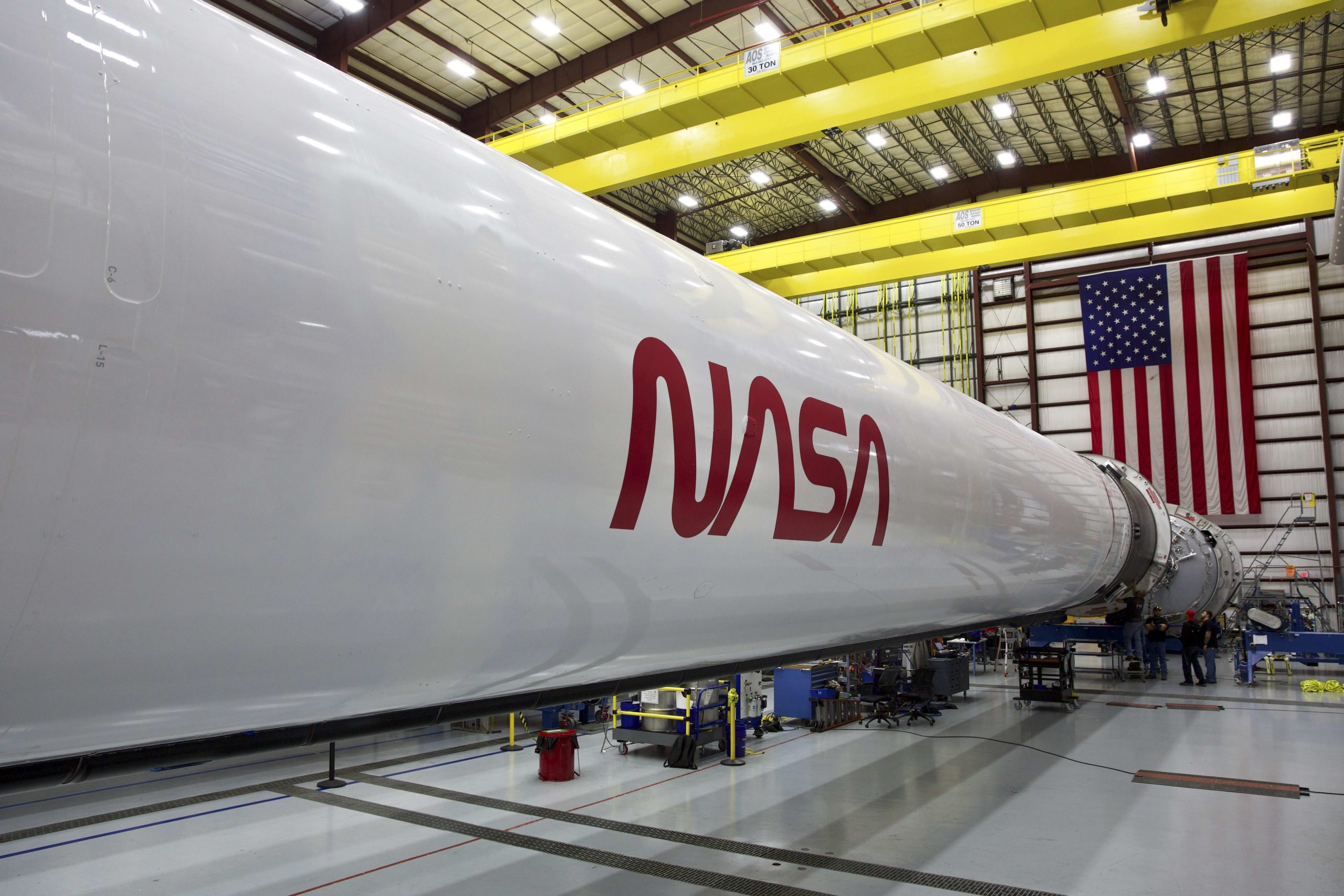 The SpaceX Falcon 9 rocket emblazoned with the famous NASA "worm" logo for the Demo-2 mission/
NASA
NASA and SpaceX are targeting May 27 for the launch of Demo-2, the first launch of NASA astronauts from the U.S. since 2011 and the first crewed launch for Elon Musk's space company.
As its name implies, Demo-2 will be the second time SpaceX launches its Crew Dragon capsule to the International Space Station. But, unlike Demo-1 last year, this time two astronauts will be on board.
Demo-2 is set to liftoff at 4:32 p.m. EDT from launchpad 39A at Kennedy Space Center in Florida. NASA astronauts Bob Behnken and Doug Hurley will be strapped into a SpaceX Crew Dragon capsule that is sitting on top of a Falcon 9 rocket.
NASA Administrator Jim Bridenstine earlier this month explained to CNBC why Demo-2 has been a priority for the agency.
"We need access to the International Space Station from the United States of America. Commercial Crew is the program that's going to make that happen. It's essential for our country to have that capability," Bridenstine said.
NASA astronauts Bob Behnken and Doug Hurley buckled into the Crew Dragon capsule for SpaceX Demo-2.
SpaceX
A historic moment for SpaceX
The Demo-2 mission will represent a major milestone for Musk's SpaceX in its goal to begin regularly flying people to space. The company has been launching spacecraft, satellites and cargo since its founding in 2002 but never humans — professional astronauts or otherwise.
The launch will be the final flight test for SpaceX's systems before NASA certifies it for operational use. Bridenstine explained previously that the plan is to bring Behnken and Hurley back from the space station after about two or three months. About a month after they return, NASA and SpaceX will launch Crew-1, which the agency considers to be Crew Dragon's "first operational" flight. Crew-1 will mark the official start of SpaceX flying astronauts on regular missions to the ISS.
Extra precautions amid a pandemic
Bridenstine noted that NASA and SpaceX are taking extra measures to protect the astronauts and other workers given the coronavirus crisis. While NASA centers across the country have been locked down, the agency designated Demo-2 as "mission essential," allowing it to move forward despite government shelter-at-home restrictions. About 350 NASA employees work for the Commercial Crew program, using personal protective equipment when needed and are working in rotations.
The agency is "making sure that we're practicing all of our social distancing measures," Bridenstine said. "We're using shifts of workers in a way that we can enable more distancing."
NASA also said its astronaut trainers "are closely adhering to CDC recommendations on infection control," with a "limited" number of employees coming in contact with Behnken and Hurley.
"We always quarantine all of the astronauts before they go to the International Space Station," Bridenstine said. "Now we're taking even more precautions."
Subscribe to CNBC PRO for exclusive insights and analysis, and live business day programming from around the world.