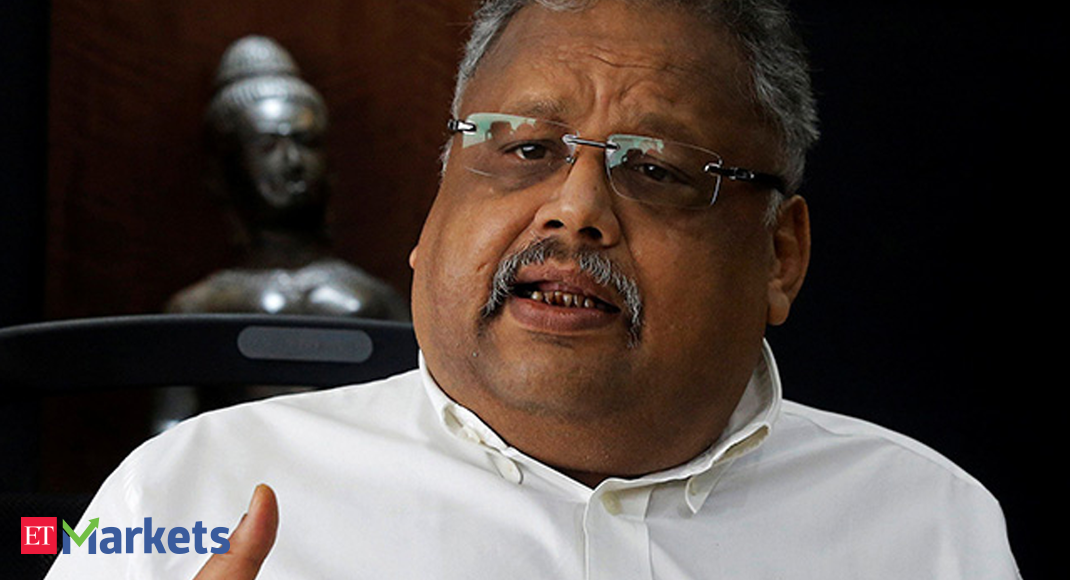 By Nikunj Dalmia

Real test will be how much the market falls when this rally stops, says Rakesh Jhunjhunwala, Partner, Rare Enterprises.
I am going to quote you here, which is that bull markets always climb the wall of worry. In this case, markets have managed to climb a much bigger worry. Nasdaq at an all-time high, Indian markets up more than 30% from March lows. What is going on?
What is going on is markets are going up; markets are anticipating the future. First of all, I have no doubt that what is going to play a very important role from here on are interest rates. Mr Buffett has said interest rates act as a gravity on valuations of all assets. The second thing is, they are anticipating that normalcy will come much faster than we anticipate. And we are thinking, and all these TV anchors are saying, is that this is about liquidity, it is a liquidity-driven rally. They are telling us every day it is bearish, but we should buy because markets are going up. It is a liquidity-driven rally and it is not going to stop and everybody has to participate.
What happened in 2008 when we had that big fall from January? Before the start of a bull run, the market shakes up things in such a manner. What happened during the 9/11 attack? Remember this one is different from 2008, because in 2008 you were coming out of an investment boom. Corporate India was highly leveraged. Now, corporate India is highly cleansed and leverage levels are extremely low. Also in 2008, there was a great participation in the Indian equity market. This market may go off 500 points, 1,000 points or 1,500 points from, say, 10300. We do not know. The real test will be how much does it fall after this rally stops. Personally, I do not think it will fall much. We are in the midst of the birth of what is going to be a good bull market.
And you expect that both at the corporate level and also SME level?
SMEs are difficult to predict. But this loan provision to help MSMEs, through which the government is giving 20 per cent of the existing limit will be very useful. I feel corporate India — with whatever companies, private or listed companies — is going to turn, come out of this Covid-19 crisis very highly productive. I have never invested in a company where you had 600 labourers, now we find we can do the same production with 450.
Banks are getting ruthlessly punished on one side. But on the other side when Mr Kotak wants to sell his stake, he can sell it like makkhan (butter) one day and he is able to raise Rs 6.000 crore. So what is going on with banks?
There is a lot of demand for qualitatively and quantitatively good stocks. If you have a quality management which has performed and you have a large block of stocks where investors are likely to write a $ 100 million single cheque, $ 50 million single cheque, this shows in the kind of demand seen in HUL, Kotak.
But do you think the suffering which has happened in banks is largely an issue of over-ownership and not a reflection of the economy?
Over-ownership is a technical reason. More than anything, it is an expression of fear. What markets do not like is uncertainty, and suddenly people have uncertainty regarding NPAs and this would be known only by December. So I expect financials to remain rangebound until December.
Among NBFCs, do you think barring five, six or maybe a dozen players, others will be in trouble, some of them will get wiped out? Is that one sector which will be a clear casualty not because of crisis but because of perception?
Complete wipeout? I think they will get consolidated. And it depends on which sector the NBFC is in. Those in housing finance will not be affected so badly, those which have big exposure to the construction, real estate and MSMEs may get affected.
When you read about Stanley Druckenmiller, Warren Buffett, Sam Zell, all of them have made billions by investing in cycle. When the old boys' club in America starts getting bearish, one starts thinking why are they so bearish?
Well, that is their opinion. Best of luck. We have not made wealth by aping anyone. So Stanley Druckenmiller, Ray Dalio or Warren Buffett, all of them have been bearish for a long time. It is not that Covid has made them bearish.
Are you betting on the front foot right now?
I am batting on the front foot, because I am always fully invested, more than fully invested. At the moment also, I am more than fully invested.
So you never had a thought that it is time to raise cash in the portfolio – even in March or April when markets fell?
I had sold in January and February. I had reduced my leverage and at March valuations I did not have any reason to sell. And the market does not give you time to react, we rebounded so fast.
Is that the new normal as machine or algorithm trading or the ETF cycles get contracted? We will not be in a five-year bull market and a three-year bear market now and in one year you will see hell and heaven both?
I think in America, we have been in a 40-year bull market. Basically you are in a bull market. We have had small corrections in say 1999-2000 or in 2008. Otherwise we are in a continuous bull market. So there can be a short-term trend, a medium-term trend, a long-term trend and a long-long term trend. When long-long term trend everywhere is bullish, the cycles can contract. But I do not think after five years of bull market we are going to have three years of bear markets, or after five years of bull markets, we are going to have one, one and a half years of bear markets.
You once told me that it is difficult to predict the weather, which is short term, but it is good to predict seasons which is the long term. So let us talk about the seasons, the long term, three years, five years. In last 10 years, equities have not given good returns. They are not even giving you double-digit returns, if I look at the last decade.
Who says that? My portfolio from 2009 to today has done wonderfully well. Markets have not given return in last three years, from 2017-18 till today.
I was talking about the general smallcap, midcap and also Nifty. They has not given great returns.
I have investments in all kinds of market-caps. There has been good return from 2009 to 2017 I have had very good returns, maybe the returns have not been good in last two years.
We can divide the market into two parts; companies that are growing but are expensive but are darlings of the market, and companies that offer a lot of value for a value investor like you — like ITC or BHEL or a State Bank of India. How does one invest in this kind of a market, because the darlings are expensive and going higher and value stocks are only becoming cheaper?
Got to make a mix of the darlings and the battered ones. But at the moment I will invest in the battered stocks rather than the darlings.
We spoke about PSU stocks immediately after the corporate tax cut about nine months ago, and you said PSU stocks offer a lot of value. Nobody is recognising it?
If the government comes out with a coherent disinvestment policy, they will find favour. If you sell ITC 10% or LIC and then you are going to sell 5 per cent of LIC every year, it is not going to go up. Until and unless the government sets a defined and coherent disinvestment policy, it will be difficult for the public sector to perform. If the government disinvests, if it sets a coherent disinvestment policy and then does disinvestment, then the public sector can really outperform because the values are unbelievable.
So can I say in market terminology, the government now has to deal with the margin fall because of the financial situation and it will have to make some selling now?
I do not think so, partly because of the margin fall and partly they truly realise that it is not the business of government to be in business. The second thing is, if they make a coherent disinvestment policy to sell one of the companies to another public sector company every year and not use public sector companies' money to buy other companies or take needless dividends and panic at the last moment and sell everything at any value, that is going to make a very big difference.