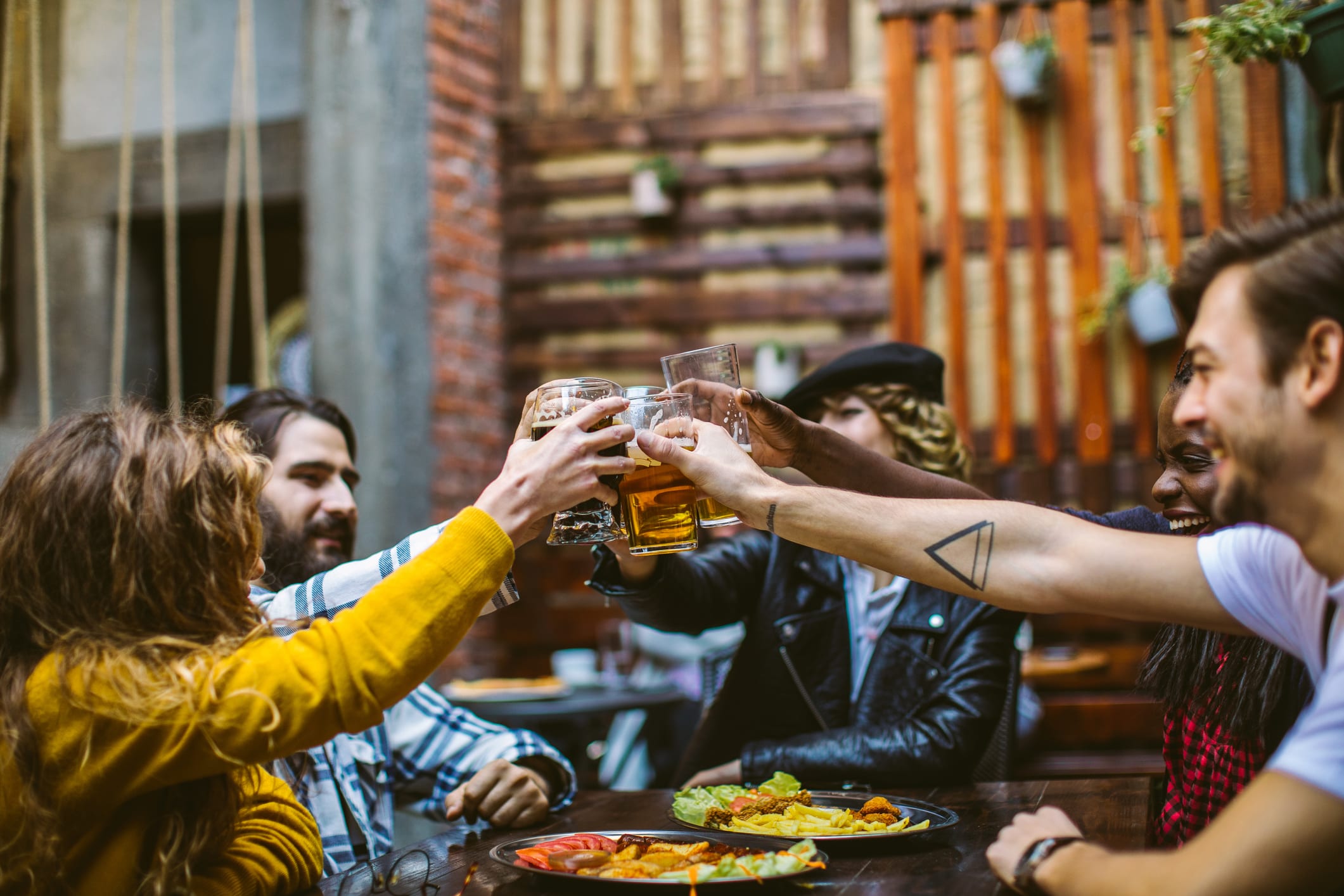 Younger Americans are eager to eat and drink out in public again.
They will, however, likely shy away in large numbers from festivals, sports venues and international trips for a while once conoravirus lockdowns are lifted across the U.S., perhaps preferring to shop online from home while waiting to see how vaccine trials pan out.
That's according to a recent poll of so-called Gen Z and millennial consumers from TruePublic. The Chicago-based research and opinion firm queried Americans ages 16 to 35 about how soon they'd been willing to re-engage in favorite lifestyle activities after the pandemic begins to subside.
The findings could be good news for some industries but spell trouble for others — although TruePublic co-founder and CEO Kaben Clausen offers a caveat.
"We're in the midst of a crisis, so these [results] are how people are answering now," he said. "Psychologically, when you're in the middle of something horrible, you're more likely to say 'no, I'm not going back until the vaccine is out.'"
More from Invest in You:
Three ways to make an uncertain income more certain
Coronavirus quarantine: Missing work could be financially 'crushing'
This simple financial plan makes it easier to get through tough times
That said, the study found a greater willingness now among young people to consider gathering in smaller numbers closer to home once stay-at-home orders expire — and a definite reluctance to immediately resume former leisure activities that involve distance and large crowds.
TruePublic found, for example, that 55% of those polled will return to restaurants "as soon as isolation ends," compared to 16% who wait for a few months more before eating out, 13% who will wait until a vaccine is developed and 16% who will wait until "long after a vaccine is out." (Coronavirus vaccine development and deployment reportedly could take up to 18 months.)
Eating out was the only activity a majority of young Americans surveyed were willing to resume immediately, TruePublic found. Most said they'd wait months, or for a vaccine, before returning to movie theaters, travel, gyms, concerts, sporting events or gatherings such as Coachella, Comic-Con or Burning Man (postponed, canceled and going virtual, respectively, this year). See the full results in the chart below.
Anecdotal evidence among those surveyed points to concerns about sweat in gyms, Clausen said, and movie theaters — facing an uphill market battle pre-virus — may also now be in even more trouble than usual. "Is this the moment when Hollywood goes video-on-demand?" he added. "If these numbers are true, you have to worry about [movie theater chains]."
This reluctance to immediately re-engage stands in stark contrast to the widely reported youthful indiscretion, or folly, of zero social distancing among college students converging en masse in spring break hotspots earlier in the pandemic.
Clausen said there are, in fact, "two types of young people in our country: the ones who don't give a damn about this thing and the ones who care a lot." While TruePublic found that 43% of Gen Z and millennials have broken isolation to congregate, "the rest are taking it seriously," he added.
Everything is moving online.
Kaben Clausen
co-founder and CEO of TruePublic
Among those young people sheltering at home who still have jobs, there's a pent-up demand for spending — despite a surge in online shopping.
"Among young knowledge workers still getting their salary, working from home and not able to spend as much money as they normally would, the hope would be that when they're able to go out again they'll actually spend all that capital," Clausen said. "The interesting question is will they spend double next month, or two months from now?"
The poll did find there's a lot of online shopping in the meantime. Half of all respondents are engaging in e-commerce during the lockdown, and a full 34% plan to keep up the increased pace, according to TruePublic. See the results below.
Whereas even some younger consumers — such as those unwilling to buy clothes without trying them on first — might have once shunned online shopping, it's now their only option — and one they like, TruePublic found. "Online retailers like Amazon are [set] for a massive boost here," said Clausen. "Everything is moving online."
That includes work. TruePublic has found that 59% of young Americans are happy to be telecommuting.
"What does that mean for companies? Certainly it's a boom for Zoom and Slack," Clausen said. "A lot of employers are now realizing that, as with online shopping, that they've done it and it worked pretty well."
Product shortages of major national brands in some stores during widespread lockdowns could also work out well for newer or smaller brands going forward, TruePublic found.
To that point, 26% of young people have found a new brand that they might switch to, or at least consider strongly in the future, Clausen said.
"I think some of the smaller brands have a greater chance now of butting in when people are making their [future purchase] decisions," Clausen said.
SIGN UP: Money 101 is an 8-week learning course to financial freedom, delivered weekly to your inbox.
CHECK OUT: How your coronavirus stimulus check could affect your 2020 taxes, according to tax experts via Grow with Acorns+CNBC.
Disclosure: NBCUniversal and Comcast Ventures are investors in Acorns.