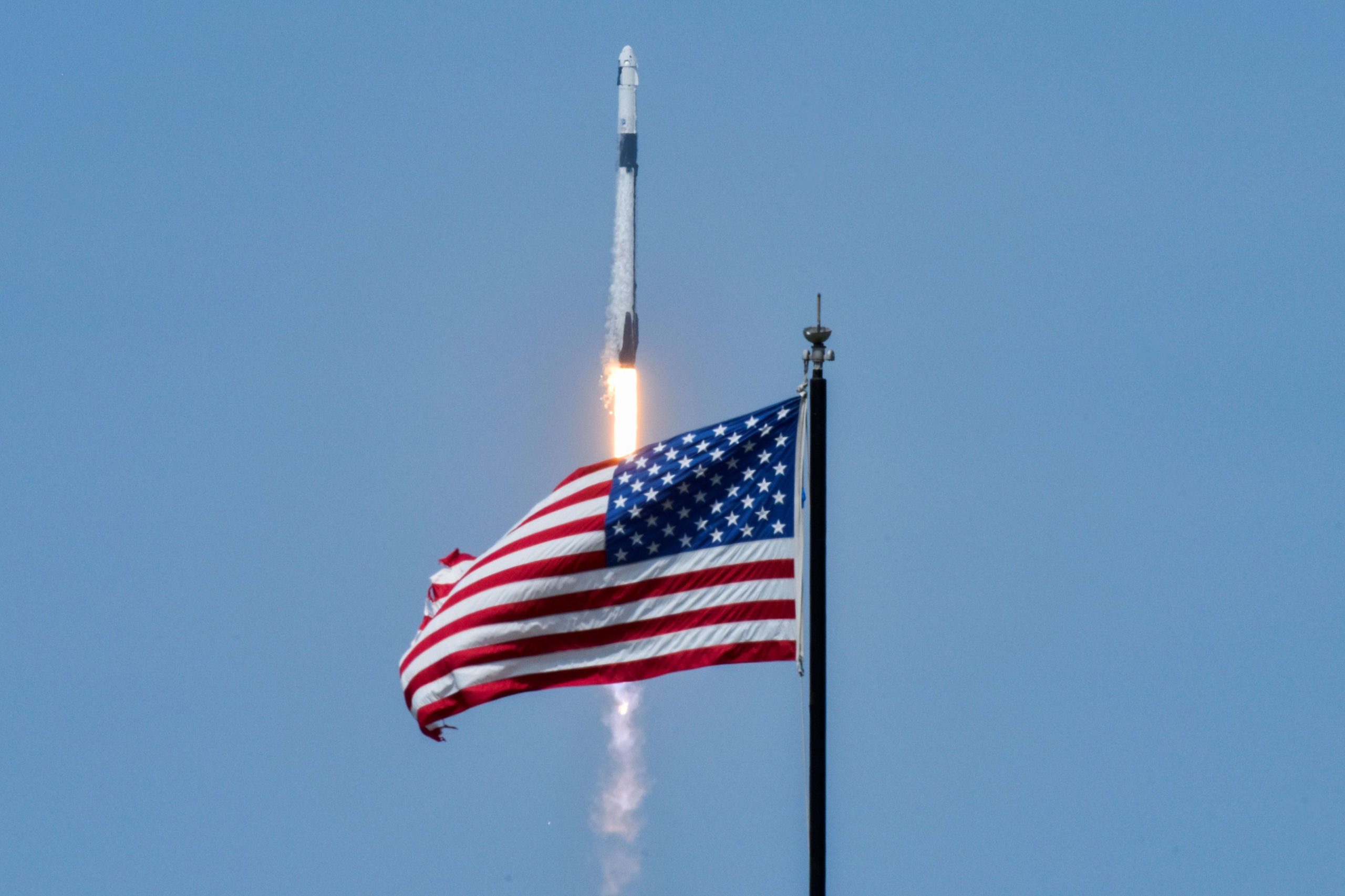 An American flag is seen as SpaceX Falcon 9 rocket and Crew Dragon spacecraft carrying NASA astronauts Douglas Hurley and Robert Behnken lifts off during NASA's SpaceX Demo-2 mission to the International Space Station from NASA's Kennedy Space Center in Cape Canaveral, Florida, U.S. May 30, 2020.
Thom Baur | Reuters
CAPE CANAVERAL, Fla. — SpaceX has begun a new chapter in the history of United States spaceflight.
Elon Musk's private space company on Saturday launched NASA astronauts Bob Behnken and Doug Hurley into orbit, successfully beginning SpaceX's first crewed mission. The company's Falcon 9 rocket and Crew Dragon spacecraft took off from NASA's Kennedy Space Center in Florida at 3:22 p.m. ET. The capsule is the first privately designed and built spacecraft to carry astronauts to space and is bound for the International Space Station.
Beyond the achievement for SpaceX, the launch represents the first time NASA has launched its own astronauts since the end of the space shuttle program nearly a decade ago.
"It was incredible," NASA astronaut Bob Behnken said of the launch, moments after the spacecraft reached orbit. "Appreciate all the hard work and thanks for the great ride to space."
Known as Demo-2, the launch represents the culmination of SpaceX's work thus far. Musk founded the company in 2002 and has since declared its informal credo to be "making humanity a multi-planetary species." To date, SpaceX has launched dozens of satellites and spacecraft but, before Saturday, it had never put a human in space.
NASA astronauts inside the SpaceX Crew Dragon capsule.
NASA
Just after 3:22 p.m. ET, the Falcon 9 rocket carrying Crew Dragon and the astronauts lifted off from the launchpad. About 12 minutes later, Crew Dragon reached orbit successfully.
"Thanks for flying with Falcon 9," SpaceX's launch director told the astronauts.
Musk watched the launch in person, along with President Donald Trump and Vice President Mike Pence.
"This just the beginning; it's only going to get better," Bob Cabana, director of NASA's Kennedy Space Center, said before the launch.
A SpaceX Falcon 9 rocket with the company's Crew Dragon spacecraft onboard is seen on the launch pad at Launch Complex 39A as preparations continue for the Demo-2 mission, Thursday, May 28, 2020, at NASA's Kennedy Space Center in Florida.
Joel Kowsky / NASA
Ever since the space shuttle retired about nine years ago, the U.S. has paid Russia upwards of $ 80 million per seat to fly NASA astronauts to the International Space Station. But NASA awarded SpaceX and Boeing with contracts worth $ 3.1 billion and $ 4.8 billion, respectively, to develop new spacecraft under a program called Commercial Crew. For SpaceX, the Demo-2 launch represents the final flight test of its Crew Dragon capsule, built to carry as many as seven people to orbit.
"We're at the dawn of a new age and we're really leading the beginning of the space revolution," NASA deputy administrator Jim Morhard told press ahead of the launch.
NASA will broadcast 24 hours of nonstop live coverage of SpaceX Demo-2. The webcast began four hours before liftoff and will continue until the Crew Dragon spacecraft docks with the International Space Station on Sunday.
Subscribe to CNBC PRO for exclusive insights and analysis, and live business day programming from around the world.